About Us
At IKM we deliver fully accredited IWCF and ECITB courses, as well as external client awareness and practical training courses across Process, Pipelines, Well Services, and Valve Services. With innovation and customer service lying at the very core of IKM, we pride ourselves on our unique range of in-house capabilities. We work in partnership with our onshore/offshore operations teams and QHSE department, ensuring our training incorporates lessons learned, new technology, and current techniques utilised in the field. As a result, our courses remain at the forefront of industry best practice, creating a modern and engaging learning environment.
From our purpose built Westhill facility in Aberdeen, we are conveniently located only 3 minutes' drive from the Aberdeen Bypass (AWPR), 10 minutes' from Aberdeen Airport, and around 20 minutes from Aberdeen's central train/bus stations. Once here, you will enjoy onsite parking, breakfast, lunch, snacks and complimentary refreshments each day, and for those requiring accommodation and/or transportation, we can even arrange bundled packages. At IKM we deliver dedicated pre and post course support, including friendly reminders for your expiring certifications, as well as special discounts for all returning candidates.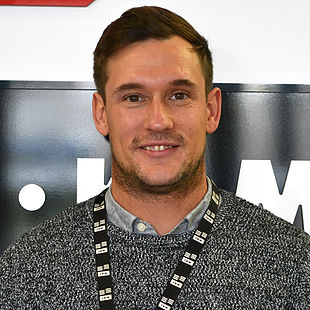 E-Mail
les.lobban@uk.ikm.com
Telephone
+44 1224 793266
Les Lobban – Technical Training Instructor
Les is an accredited ECITB training instructor (Mechanical Joint Integrity), as well as our lead instructor for delivering IKM pipeline, process, and valves awareness and practical training courses. Whether it be for experienced industry personnel or those seeking to take their first steps into the industry, Les thrives on developing and delivering up-to-date and stimulating training.
Having previously worked as a Project Engineer, Regional Trainer and Supervisor within the process and pipeline divisions for the likes of Baker Hughes and EnerMech, Les has acquired great operational experience during his career thus far, including leak testing, bolting, pipe freezing, pigging and flushing, and valves maintenance and repair work scopes.
Les remains actively engaged with daily process, pipeline, and valves operations within IKM. Working closely with IKM operations personnel, QHSE, and our innovative design and engineering department, he safeguards that our training satisfies the ever changing needs of our dynamic industry, whilst simultaneously ensuring that safety and best practice remain firmly embedded within all our training. These unique in-house capabilities also enable him to develop and deliver bespoke training solutions to our clients, tailored around their unique set of requirements, with certain training even designed to be delivered offshore if needed.
Please e-mail or call us directly to receive a quote or to learn more about our external client awareness and practical IKM training courses and bundled training packages.
+44 (0) 1224 725599
E-Mail Us
Courses